Climb Harder. Perform Better. 
Regular price
Sale price
$48.95
Unit price
per
Sale
Sold out
Lead: Advanced Pre-Workout for Climbers will get you climbing harder and performing better. This formula was made specifically with climbers in mind and driven by relevant scientific findings. Lead contains everything you need, all in one place. No longer do you have to buy multiple expensive products to level up your athletic nutrition.
Benefits may include:
Tendon development and injury prevention
Reduced forearm pump
Increased power and endurance
More energy
Increased focus and mental clarity
Better blood flow and reduced recovery time
No Artificial Flavors, Sweeteners, or Dyes
All-Natural, Gluten-Free, and Dairy-Free
Vitamin C (as Ascorbic Acid) 90mg, Types I and III Hydrolyzed Bovine Collagen 10000mg, BCAA 2:1:1 (L-Leucine, L-Isoleucine, L-Valine) 4000mg, Beta Alanine 1600mg, L-Tyrosine 500mg, Beet Root Juice Powder (Beta vulgaris) 400mg, Organic Lion's Mane (Hericium ernaceus)(mycelium) 400mg, Rhodiola Rosea Root Powder (std. to 3% Rosavins, 1% Salidrosides) 350mg, L-Theanine 200mg, Caffeine Anhydrous 150mg, Organic Cordyceps (whole plant)(Cordyceps sinensis)(mycelium) 50mg
View full details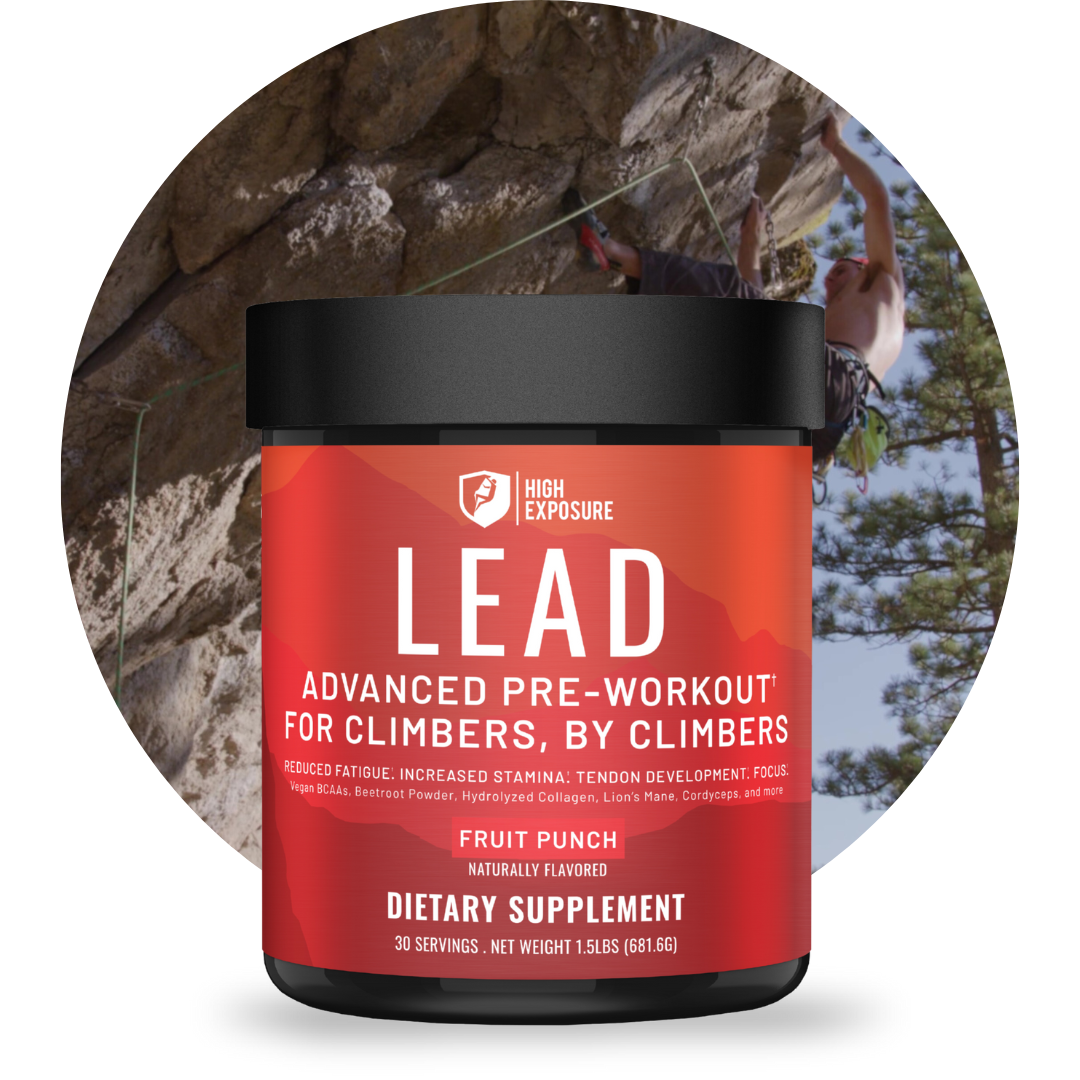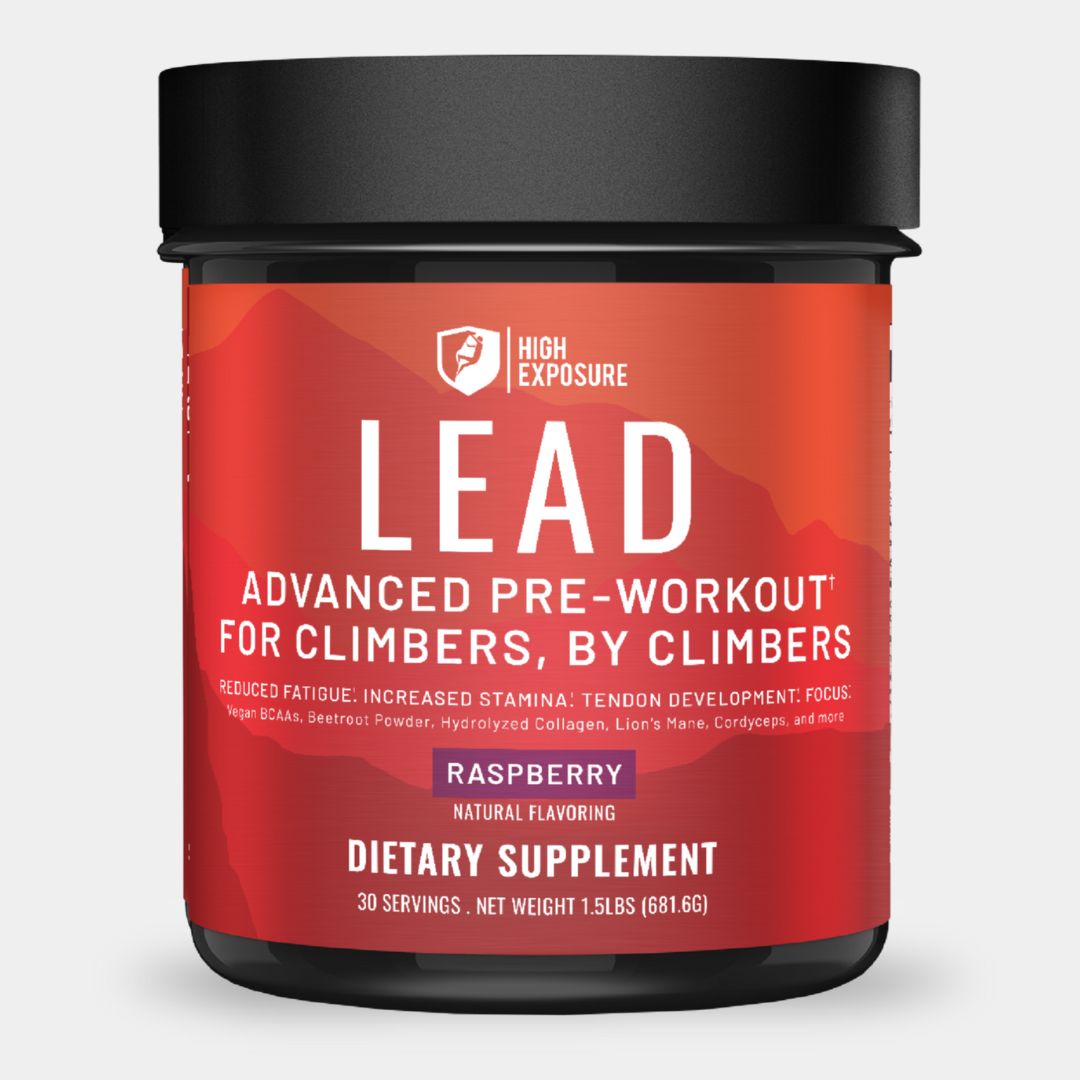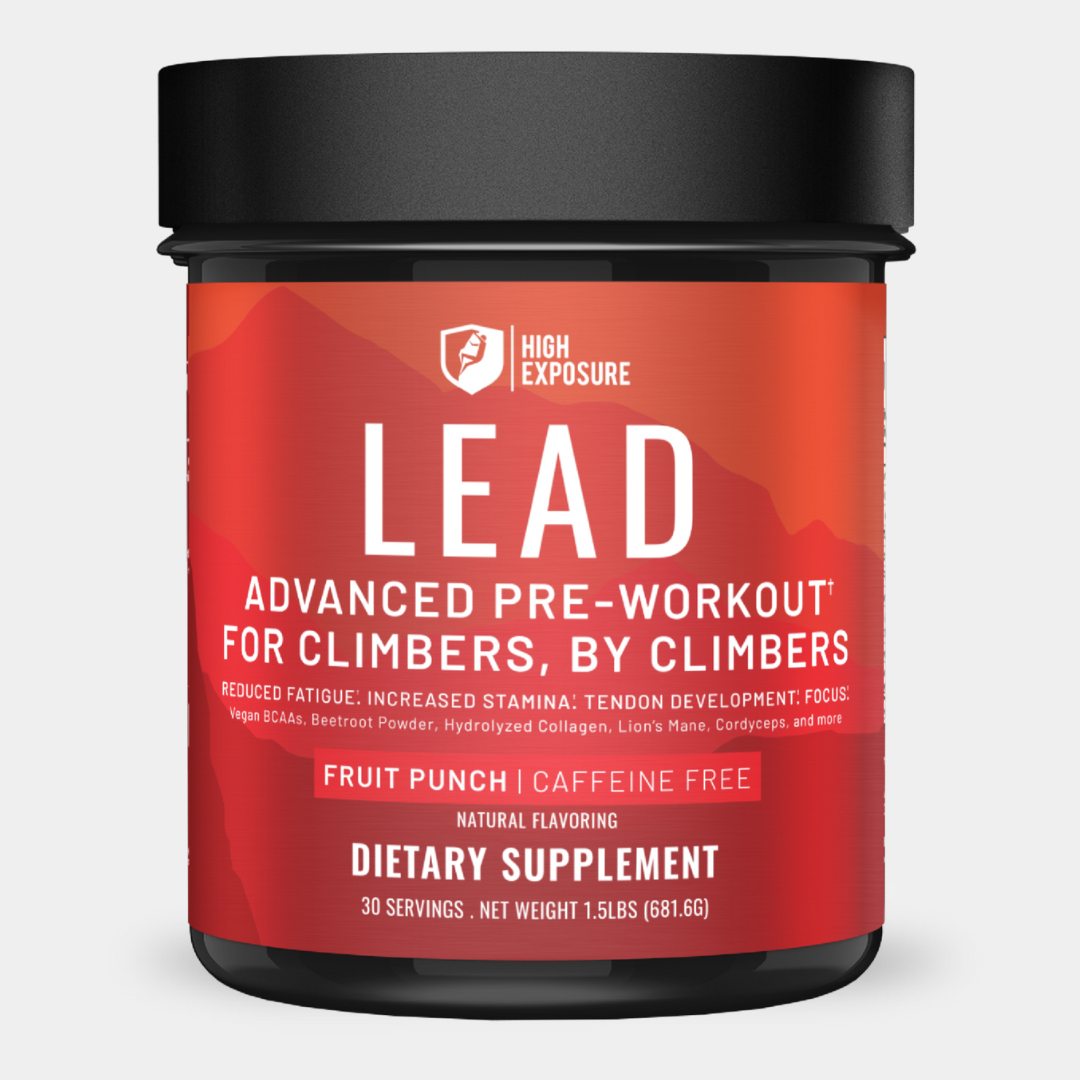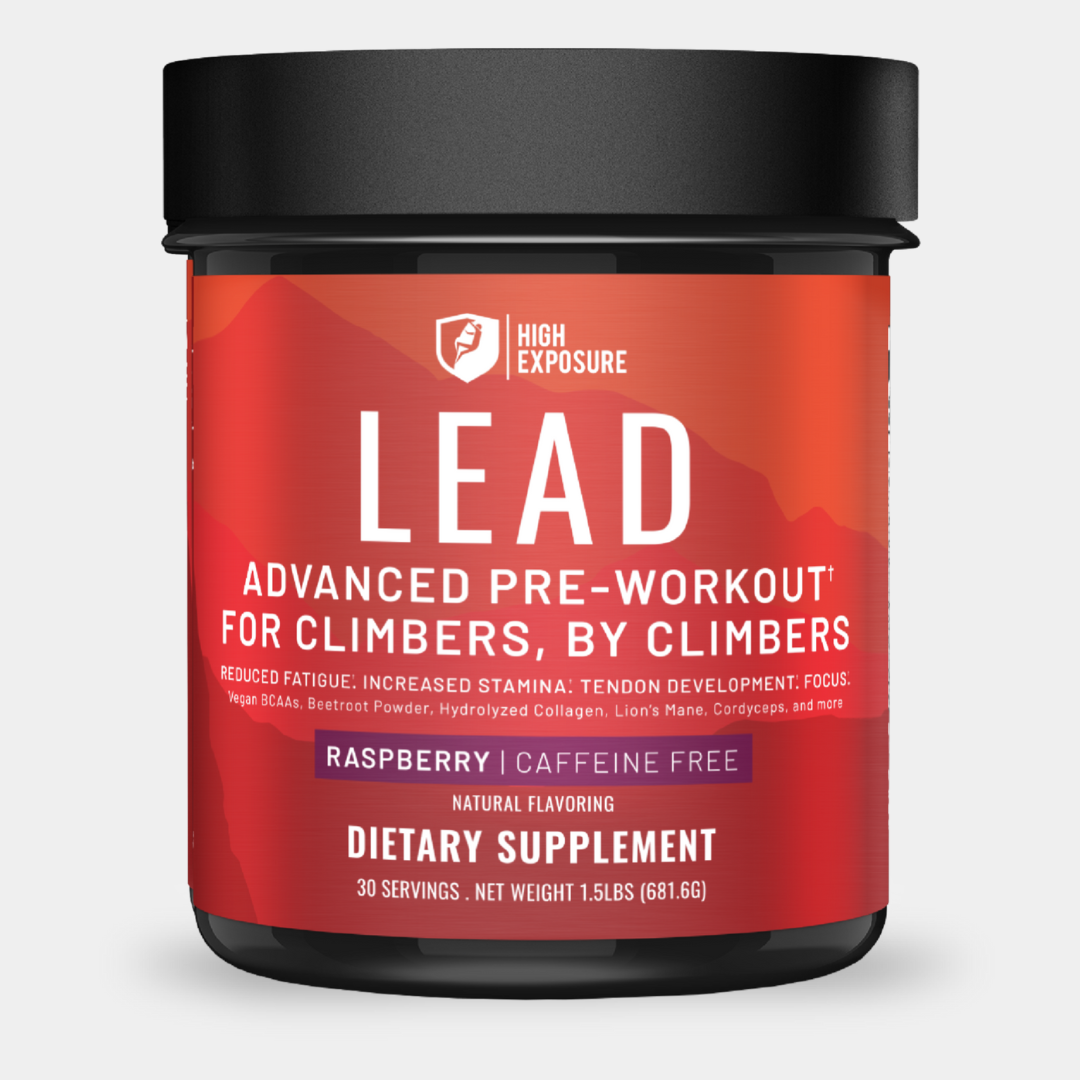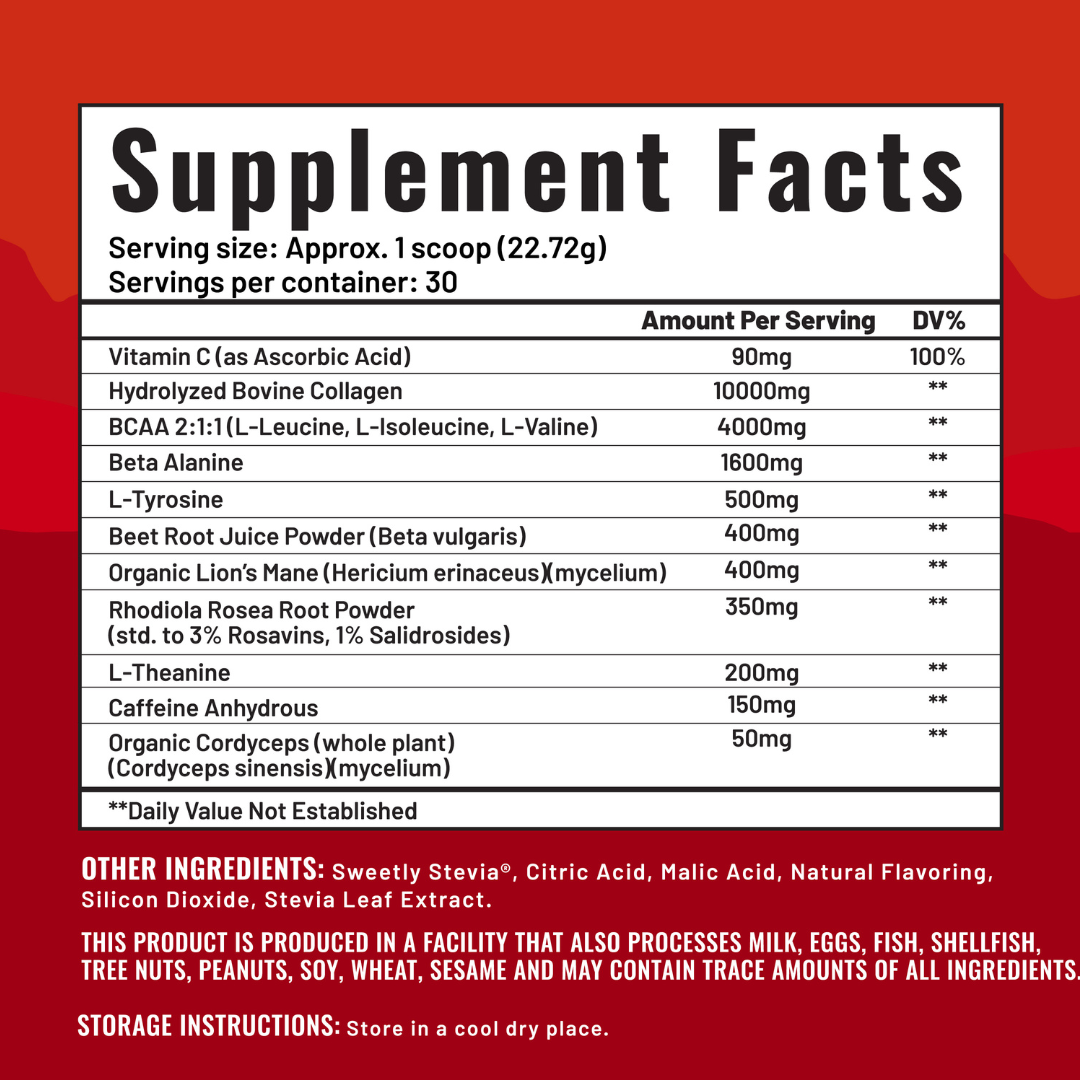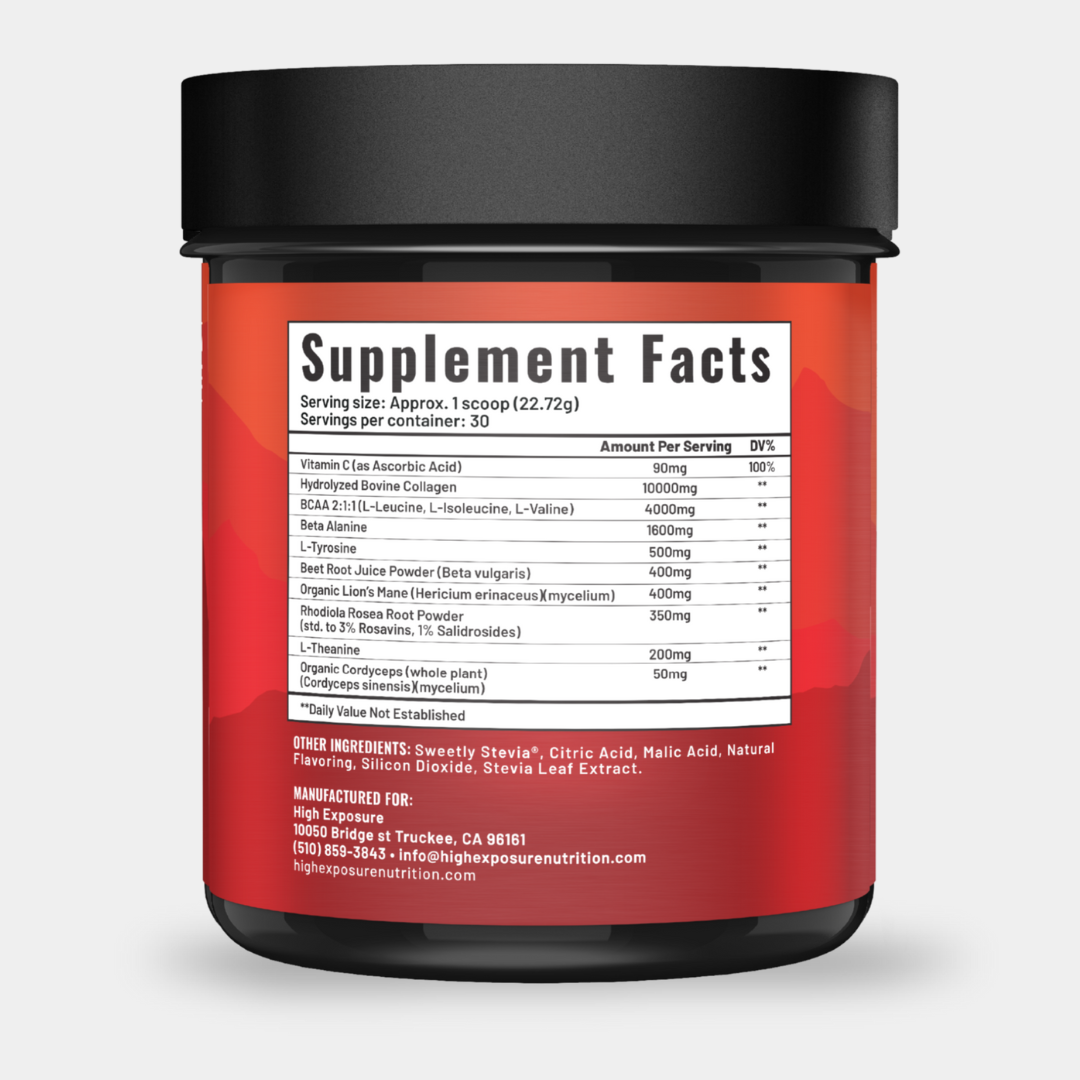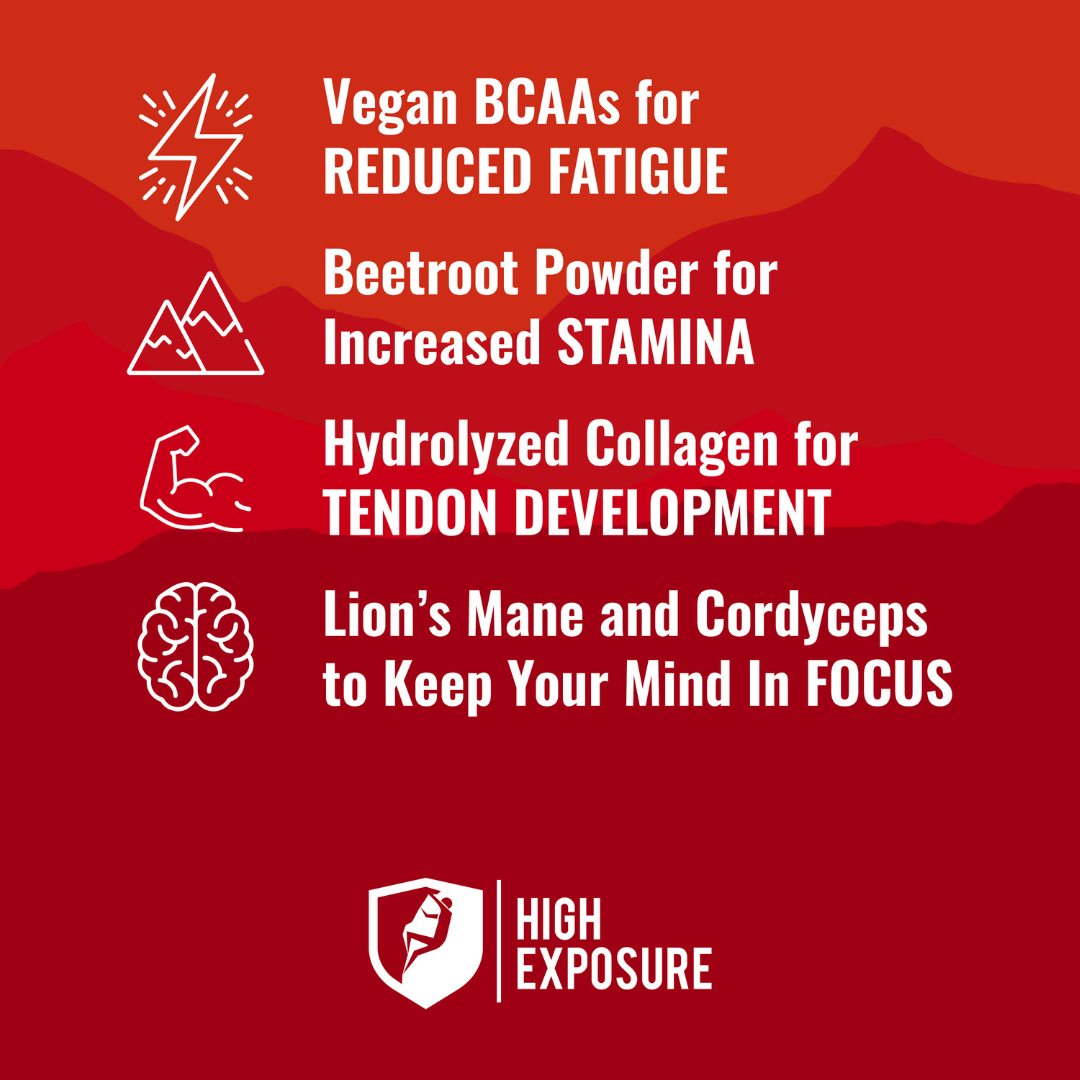 How to use:
Take one scoop with 8-12 fl oz of water before a workout to lead yourself to new heights. New users may wish to assess tolerance with 1/2 scoop.
WHY LEAD WILL HAVE YOU CLIMBING HARDER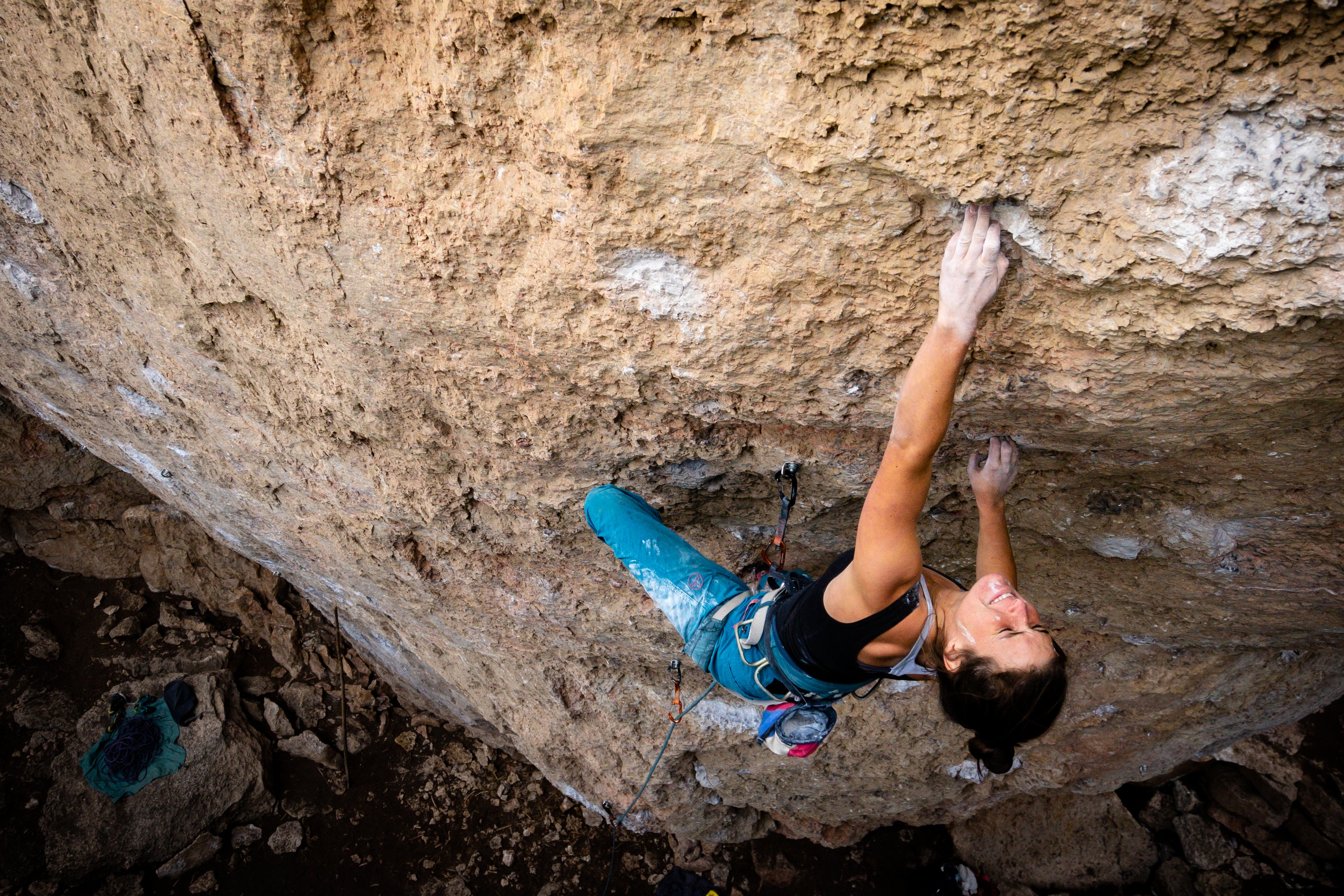 Hydrolyzed Bovine Collagen (Types I and III) and Vitamin C

Collagen is a protein that aids in tendon development and helps prevent finger injuries. Supplementing with collagen before a workout allows the collagen peptides to be delivered through the blood stream at a higher rate and increase efficacy. Vitamin C is included with collagen because it contributes to collagen production by preventing auto-inactivation of two key enzymes in collagen biosynthesis.*
Vegan BCAAs

A group of three essential amino acids that help prevent fatigue and build lean muscle mass. BCAA supplementation can also decrease recovery time and help prevent muscle soreness. Our BCAAs are vegan because many people are sensitive to BCAAs derived from animal products.*
Beta Alanine

An amino acid that reduces lactic acid build-up in your muscles during exercise. Mitigation of lactic acid can help prevent forearm pump and increase endurance on the wall. Beta Alanine can sometimes create a harmless tingling sensation that goes away as the product is used more frequently.
Caffeine and L-Theanine

Caffeine paired with L-Theanine will give you energy without the jitters. L-Theanine is a non-protein amino acid found naturally in green tea and some mushrooms. It reduces stress, and when paired with caffeine gives you a calm, sustained energy.

*Caffeine free flavors are available.
Beetroot Powder

The nitric oxide found in beetroot powder acts a natural vasodilator and helps to improve blood flow throughout the body. Increased blood flow leads to greater endurance and stamina while climbing.
Organic Lion's Mane

A mushroom that has been used by humans for centuries for its cognitive and neuroprotective factors. Lion's Mane has been shown to stimulate a protein called nerve growth factor (NGF). NGF is essential for brain health and helps regulate the sympathetic nervous system. Lion's Mane will keep you focused and mentally sharp while climbing.
Organic Cordyceps

A fungus found in the high mountain regions of China that has been shown to increase ATP production in the body. Cordyceps may also improve heart health and performance due to the high levels of adenosine, a naturally occurring compound with heart-protective effects.
Rhodiola Rosea Root Powder

An herb that grows in the cold mountainous regions of Europe whose roots have been shown to increase the body's resistance to stress. Rhodiola may also help fight fatigue and keep you climbing for longer.
YOU MAY ALSO LIKE
Regular price

Sale price

$32.95

Unit price

per

Regular price

Sale price

$23.95

Unit price

per

Regular price

Sale price

$59.95

Unit price

per
SUBSCRIBE TO BETTER CLIMBING
CHOOSE YOUR DELIVERY SCHEDULE